Weather Watching Holidays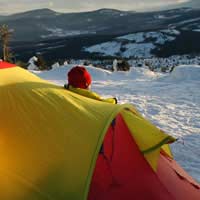 Long before any of the current discussions of climate change the weather has always fascinated us. From wondering if we were going to get soaked, to marvelling at the many moods of nature, weather watching has an enduring appeal, not to mention a special place in the British psyche – after all, there are few topics that complete strangers can talk about in such total safety!
While brave – or perhaps foolhardy – souls have pursued tornadoes across the flat landscapes of middle America for years, more recently new holidays have sprung up offering the chance to experience nature in the raw, without having to sacrifice too much of 21st Century comfort. Today's weather watchers really can have the best of both worlds – enjoying the rugged lure of the wild, without having to risk life and limb to do it.
Storm Watching
Storms have captivated and terrified us – in roughly equal proportions – since the dawn of time. It is hard to watch the fury of one without sparing a thought for our cave-dwelling forbears and how they must have felt, facing the flashes and bangs of nature's pyrotechnics. Despite the advances of our knowledge and the passage of time, there is something deeply elemental about the whole experience – and few things are quite so effective at reminding us of our place in the whole scheme of things.
A number of opportunities await the avid storm-watcher, ranging from the British coasts to venues much further a-field.
Tofino, on the far west coast of Canada, is one of the most well-known of the far-flung destinations for storm watching, with a season which runs from November to March. A number of hotels in the area offer storm-watching breaks, though the Wickaninnish Inn, perched on a rocky promontory on Chesterman Beach – one of the most secluded and tempestuous sandy stretches along the north Pacific coast – was probably the first. The area also offers the chance to see Grey Whales, porpoises, wolves and black bears, making it an ideal spot for the eco-tourist even on the few occasions when the weather refuses to turn bad!
While Tofino's weather systems enjoy an unequalled reputation in storm-hunting circles, a number of other resorts can also provide a similar weather-watching rush – particularly if you time your visit wisely. Staying on the Pacific coast, Mendocino – 50 miles north of San Fransisco can let you share in some spectacular winter storms, while Quirpon Island in Newfoundland can provide storms a-plenty, as well as views of migrating whales and icebergs when the weather gets better.
If snow storms are more your thing, Vermont's Inn at the Round Barn Farm can offer you more than 20 feet a year, while for the traditionalist tornado-chaser, Oklahoma's "Tornado Alley" is definitely the place to be. Specialist companies such as Silver Lining Tours offer holidays which are virtually guaranteed to find you that elusive twister – with hotel stop-overs and fully equipped vehicles thrown in.
Nearer to home, Brittany has some of the highest tides on earth – which can lead to some dramatic storms, especially during autumn and early winter, while Britain itself hosts some spectacular weather-watching opportunities. Newquay's Headland Hotel, for example, on Cornwall's rugged Atlantic coast runs storm-watching weekend-breaks, while perhaps the most recent entrant to UK storm-watching lies far to the north – on Scotland's Moray Firth. The coastline around Banff – an hour or so north of Aberdeen – offers some of the most wild weather of mainland Britain. Here winds driven across the North Sea from the Arctic make first landfall with severe gales common-place and violent storms a routine winter feature – often accompanied by gusts well into hurricane-force. The Banff Springs Hotel, enjoying a commanding view over the bay, makes an ideal base – and conveniently located for Speyside and the whisky trail, there is plenty to see and do even when the sun shines.
There is something about a storm – the raw power of nature – that leaves us truly in awe, though few of us regularly chose to experience them. However, for those that do, the opportunities are growing; once the almost exclusive preserve of the tornado-chaser, storm-watching is rapidly becoming mainstream, with a growing number of venues seeking to cater for the avid weather tourist. Whether you chose to stay close to home or travel further a-field, there is little shortage of chances to remind yourself of just how wild the weather can really be.
You might also like...