Eco Friendly Holiday Resorts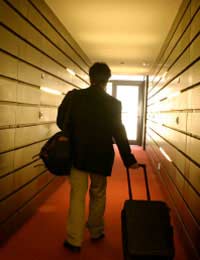 As a quick search of the internet – or your local travel agent's shelves – will show pretty quickly eco-friendly holidays have become big business and it is no longer just the specialist companies and resorts which are catering to this growing demand. Green-tourism has gone mainstream in a big way and while this is certainly welcome news to anyone looking for a low-impact break, it is not entirely without its problems. Claiming to be environmentally aware is one thing – but how can you tell the genuinely committed from those who are more interested in your credit card than your conscience and when it comes to eco-friendly holiday resorts, just what is available?
Asking The Right Questions
Although the increased popularity of eco-travel has led to far higher levels of objective and independent scrutiny – making it far harder for the out-and-out rogues to thrive – avoiding too much "green-wash" can often come down to asking the right questions. If you really want to make sure that your holiday is as eco-friendly as you would want it to be, you are probably going to have to make a bit of a nuisance of yourself and take the issue up, either through your travel agent or directly with the resort itself.
Any resort which is serious in its claim to be green must have a written environmental policy and it should be readily available for you to read, so the first step is to get your hands on a copy – any hint of evasion on this one and you should probably be thinking the worst!Assuming you do get one, you should be able to glean from it how the resort minimises its own impact, assists in local conservation or recycling projects and supports the local economy, either through purchasing policy or employment. It is also worth trying to find out how they perform on waste, water and wastewater since in many parts of the world there are serious problems associated with all of these, so it can be a useful indicator of the true state of their environmental thinking. If some assessment regime has been put in place to monitor the effectiveness of their policy, so much the better, but given the inherent difficulties in verifying it for yourself – especially at a distance – in the end, it may just come down to making your own mind up.
Sometimes, however, the work may have already been done for you – many of the specialist eco-tourist companies are painstakingly rigorous in ensuring that the resorts they use meet the highest possible standards. If you are really lucky, you may find a truly independent assessment, perhaps from newspapers, environmental magazines or eco-tourism organisations. Third party endorsements – such as the First Choice Responsible Tourism Awards – can be invaluable in deciding how truly earth-friendly your intended destination really is, since the nominations come from fellow eco-conscious tourists. If it does all have to come down to a judgement call, then it is best to make an informed one!
The Variety of Resorts
Whether your ideal eco-friendly holiday is at home or abroad, there is no doubting how far things have come in recent years. Without ever leaving these shores, a variety of decidedly green options beckon. Centre Parcs – described by David Sheppard of English Nature as a "flagship for its environmental practice" – would be one obvious candidate to consider.
Alternatively, depending on your particular wants, the likes of the Project Eco Lodge in Sussex, or Scotland's Loch Ossian Eco Hostel, which recycles its water, uses renewable energy, and even has bat-friendly paint, might fit the bill. For the more inquiringly eco-minded, there is the new luxury hostel at the Centre for Alternative Technology (CAT) at Machynlleth, while the likes of the Thomas Shop offers eco-friendly respite care for those with special needs on the banks of the River Ithon.
Throw the net wider and the opportunities are almost limitless. Responsible Travel, for instance, offer holidays to the popular resorts of France, Spain and Greece as well as lesser travelled destinations such as Transylvania, Mozambique and Costa Rica. They can give you very clear information about how and why each one qualifies as eco-friendly. More "mainstream" operators also now provide for the needs of the green-conscious traveller, with offers to destinations such as the Algarve to as far as the exotic shores of Venezuela and Zanzibar. Ski resorts have embraced the wind of change too – centres such as Aspen and the Vail resorts in the US together with Progression Ski, Saas Fee, Neustift in Europe, representing some of the best of this new environmental renaissance.
For the environmentally-aware traveller, there are now so many possible holiday resorts proclaiming their eco-friendliness that there is sometimes a danger of being unable to see the wood for the proverbial trees. It may take a little bit of careful research at the front end, but there really is a holiday to suit everyone, whatever your needs and – best of all – without costing the earth!
You might also like...