Planning an Eco Lodge Holiday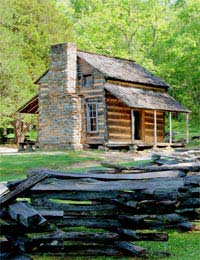 You can always tell when something new and a little unusual has become firmly established - it happens when it loses its hyphen; today, with what was once eco-lodge now written "eco lodge" or "ecolodge", you know the idea is here to stay. The rising popularity of the eco lodge as a genuinely environmentally-friendly holiday venue has been one of the great successes of the whole eco-holidaying movement. With more than a touch of the original rustic and romantic charm that first made Gites so appealing, today's eco lodge offers the opportunity to get away from the stresses of modern life, without having to give up on too many of its conveniences. Although for some eco lodges, much of their allure lies in their lack of sophistication, some others are so well-appointed that you find yourself going green almost without noticing it.
Staying in an Eco Lodge
The whole essence of an eco lodge is sustainability and low impact living. Typically constructed from locally sourced materials – and in some cases, out of timber from the woodland they stand in – and equipped with a whole host of energy saving features, these lodges go about as far as it's possible to go to make your holiday green and eco-friendly. Deliberately constructed "off-grid", the innovative use of renewable energy plays a major part in the whole experience, with wood-burners, wind and solar power fairly standard, though some enterprising owners have installed air source heat pumps and even small hydro systems.
Water efficiency is another area where eco lodge holiday housing scores highly in the green stakes, compared with more traditional resorts or hotels. Many use rainwater recycling systems to supply their guest's non-drinking needs, while a number have also addressed one of the biggest users of treated water in "normal" accommodation – the WC. Composting toilets and eco lodges are natural partners, and the waterless loo is a lot more civilised than you might think! As long as they've been properly installed with adequate venting and a proper soak-away drain they don't smell and a handful of straw after use replaces that mighty flush of water – an obvious environmental benefit, no matter where your lodge is located.
Picking Your Venue
Over the last few years, the eco lodge idea has really taken off which means that almost wherever in the world you want to visit, there's probably an eco lodge to stay in – and in some of the more popular places, you can often find yourself spoilt for choice. Whether you favour the serenity of the British countryside, the depths of the Belizean rainforest, or being on the beach-front in the Bahamas, there are plenty of options.
Eco lodge accommodation generally tends to come in two main categories. On the one hand there are individual lodges, usually set in their own – and often quite extensive – parcel of land, making a successfully retreat for your fortnight of complete peace. On the other, at some resorts, small lodge villages have been built – often associated with a local hotel – which offer all the eco benefits coupled with the opportunity to make some like-minded new friends.
Of course, to make really sure that there really is as much "eco" in your eco lodge as you'd like, all the unusual rules about checking out your tour operator and hosts apply. However, this is seldom a problem – after all, it would be a strange set-up indeed if they weren't tripping over themselves trying to tell you all about their green credentials!
Whether your chosen retreat calls itself an "eco lodge" or "ecolodge", one thing's for sure – it's a great place to spend any green break.
You might also like...