Exploring Local Languages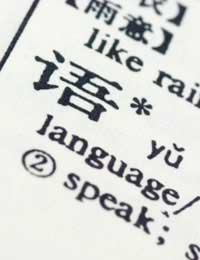 There is a old Welsh saying that language is the heart of a nation – so if you really want to understand the soul of a country and its people, there is no better way than by trying to get to grips with the local tongue.
The good news is, you certainly do not have to be much of a naturally gifted linguist to get the benefit; absolutely anyone can – and should – learn a few useful words or phrases at least. The odd "please," "thank you" and "excuse me," even if the rest of the conversation is done in English – or entirely in mime, gesticulation and smiles – will buy you so much goodwill and mark you out from the average tourist. If you truly care about the wide diversity of social and cultural riches to be enjoyed on this little planet of ours, it simply has to be worth making the effort – and if nothing else, it shows you bothered.
Fear of Trying
Many people are a little put off trying because they think they will sound awkward or silly and people will laugh at them. Ask yourself a simple question – how fluent do you think many of the local people you will encounter are in English and why should they feel any more relaxed about speaking a foreign language than you do? Besides, only the ignorant will laugh at your attempts – and by far the majority will respect you for taking the trouble to try.
There is, of course, a word of caution in all this. While most people will happily try to help you master a few simple rudiments of their language, some may enjoy a joke at your expense, leaving you greeting someone with what you believe to be a cheery "hello" – while actually saying something breathtakingly obscene! However, such "jokers" are, mercifully, rare and so long as you take your lessons from those you have reason to trust – tour operators, hotel staff and so on – you should avoid the problem.
Learning the Language
There are courses available for many of the world's major languages at most FE colleges, as teach-yourself courses and online, so picking up a little Spanish, Portuguese, Chinese or Russian should not be too difficult. Less widely-spoken tongues can be a bit more tricky but even these can usually be found with a bit of research – and on that subject, do be careful to make sure you know which language is in common local use. It is said that Dianne Fossey, whose work was immortalised in the film "Gorillas in the Mist" learnt Ki-Swahili before travelling to Africa – unfortunately not realising that almost nobody in Rwanda spoke it!
If you are intending to travel to a country with a less well-known language, then there is all the more reason to make the effort. Most native speakers of such tongues are fiercely proud of their linguistic tradition and moreover, the survival of their language – and culture too – depends on them keeping that particular flame alight. Imagine for a moment that English faded into the history books – what then of Shakespeare, Dr Who or East-Enders? Cultures need their languages, for a nation's stories should always be told and its songs sung in its own words.
The world-wide spread of English, largely due to the wholesale domination of Hollywood films and the syndication of British and American TV has made learning other languages be seen as less important than it really ought to be. Respecting the cultures of the places you visit is, of course, important, but often the significance of language as a part of that process can become somewhat obscured. The two things remain, however, indivisible parts of the same whole – but the point is perhaps better viewed not as a philosophical one, but simply as a question of good manners. In many parts of the world, the Brit abroad will be welcomed with countless attempts by locals – especially children – to practise their English. The least any of us can do is to try, in some small way, to repay the compliment.
You might also like...