Community Based Tourism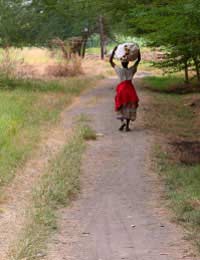 The rise of community based tourism is probably one of the most positive developments in the travel industry over recent years. Whist tourism always has an effect on the locality, historically it has not always contributed much to the local economy. A large, all-inclusive resort complex run by a distant corporation, for instance, certainly benefits its faceless owners, but may do very little for the community in which it sits. Local people may have jobs there – but they are unlikely to be anything other than menial ones – and what contact there is between guests and local culture, limited to the resort's specially-staged shows. For the eco-tourist, this sort of situation is neither sustainable, nor desirable. Community based tourism projects address precisely these problems, returning the initiative to the people themselves and allowing them to benefit directly from the "green" pounds the new breed of ethical traveller has to spend.
Similarities and Differences
As any online search on the topic will reveal very quickly, the range is staggering. – working with small farmers in Kenya, staying with hill tribes in Thailand, discovering traditional lifestyles in the Himalayas, celebrating cultural diversity in Peru and many more besides. Despite the individual differences, there are a few broad similarities which define the ethic behind the community based approach, the most central being that the local tourist industry which this develops is both socially and environmentally sustainable.
Implicit in this idea is, first and foremost, a respect for both the indigenous way of life and the indigenous wildlife, not least since many of the schemes are firmly rooted in particular – and often fragile – areas of natural or historical interest. Inevitably the power of eco-tourism to support local cultural and environmental conservation plays a central role in shaping things and in turn brings economic development, the benefits being shared by the community as a whole. Again, each project may achieve this in a different way – perhaps through co-operative ventures or funding schools, water, sanitation or medical care – but the return of tourist revenue is an important factor in the success of these schemes and everyone gains. The key point is that a genuine tourist industry grows up in the area – with local people providing the necessary services to develop and run it – rather than simply tourism, where travellers visit but negligible benefit arises to the area's population.
A Problem or Two
Although the whole idea seems a wonderfully utopian vision of the way towards a perfectly fair and sustainable tourist industry for some of the world's most impoverished regions, it is not without its problems. For one thing, communities are diverse and composed of individuals, so although there may be a local forum for discussion, it does not preclude disagreement and dissent over the way to go. It is naïve to assume personal interest will not play its part in these schemes every bit as much as it does elsewhere. However, perhaps the single biggest stumbling block is the issue of profitability. If a particular venture cannot generate sufficient revenue, the twin goals of supporting cultural or ecological conservation and driving economic development become unachievable. This is an ever-present danger, particularly for small, remote community tourism projects and only very robust marketing is likely to offer them a lifeline. However, while it is probably too early to draw many conclusions about the future shape of this type of tourism with any real degree of certainty, there are encouraging signs. Many of these projects have already been responsible for rekindling interest in local heritage, culture and wildlife and, in some cases, their rescue.
While the advent of the eco-tourist has led to a growing awareness of the real monetary value of pristine environments and wildlife, which inevitably helps to ensure their survival, sometimes the indigenous population has not fared so well. It is ironic that attempts made with the best of intentions to safeguard the environment can have a serious detrimental effect on local people, particularly when their traditional lands become "protected." It is entirely indefensible when their reward for being at the centre of a tourist honey-pot sees them collecting a minimum wage, or reduced to parading a parody of their native culture to entertain visitors who – sadly – know no better. Community based tourist initiatives offer a welcome alternative and need all the support – and publicity – they can get.
You might also like...