Buying Local Produce on Holiday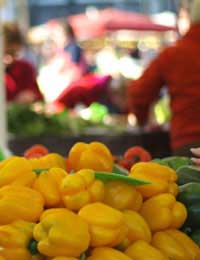 Whether you chose to holiday in the UK or further a-field there are major ethical and environmental benefits to buying locally. As a nation we have become so used to the convenience offered by high-street names and supermarket chains that the idea of sourcing produce locally is no longer second nature as, of course, it was only a generation or two ago. In our defence however, the process has gone so far and so many local independent shops closed that in some parts of the country, it would be virtually impossible to do anyway. A holiday provides the perfect opportunity to look again and re-engage with the whole idea – and who knows – it might even become a habit!
Food Miles
One of the most exciting things to happen over recent years to reverse this trend has been the upsurge of farmers' markets around Britain, with food being sold close to where it was produced, reducing the "food miles" – the distance between field and plate – travelled. This is one of the key benefits of a "buy local" approach – and applies wherever in the world your holiday shopping finds you.
In the UK alone, food makes up about a third of all the goods transported on our roads and according to Government figures, in the ten years from 1992 – 2002, food miles increased by more than 15 per cent. Hauling food around the country on this sort of scale represents a massive use of fuel – and an equally large amount of carbon dioxide emissions; it is simple to see why purchasing locally grown produce makes sense. Despite this, around 95 per cent of the fruit and 50 per cent of the vegetables on sale in the UK are imported – and flying things in from distant parts of the globe brings with it far greater environmental impact than simply the distances involved. We as consumers have to take our share of the blame – this is the cost of our year-round strawberries.
It is, obviously, not just a problem for developed countries with their extensive supermarket networks; in many parts of the world, small farmers and growers depend on selling their surplus. From Gloucester to Ghana, buying locally produced food in season, rather than imported whenever possible, at local shops and markets, not only reduces the food miles, but it also supports the local economy, which seems a fair trade-off for your holiday enjoyment. After all, the local farmers are very largely responsible for the shape of the land you are visiting and besides, if you really want to experience the place – then there can be no better way, quite literally, of getting a taste of it than by eating the local food.
Souvenirs
When it comes to souvenir-hunting, the same basic idea holds true. Presents made by local people are not only more of a genuine reflection of the place you are visiting, but they also come without the attendant "gift miles" associated with items from outside. There has to be something both faintly silly and environmentally dubious about a little Dutch doll in full national costume, stamped "made in China," for instance. Unfortunately, in our increasingly globalised world, it can sometimes be awfully difficult to lay your hands on something locally made – and some parts of Britain are amongst the worst for this. All you can do is your best and sometimes, you may just have to admit defeat!
On the subject of local souvenirs, however, one word of warning. Some locally produced items on open sale in a number of countries may actually be illegal to import. Many of these are obvious, such as firearms or historical antiquities, but others are not – so it pays to be careful, especially with anything made from animal skins, horns or shells. Unfortunately with over 800 species of plants and animals entirely banned from international trade and strict controls on the sale of a further 30,000, it can be almost impossible to know whether you are doing anything wrong. Arrive back home with one of these in your luggage – however innocently bought – and you could be in line for a heavy fine or worse! No matter how tempting, if in doubt, leave it on the stall; there are much better ways of supporting the local economy.
In many ways it is rather like your own mini "fair-trade" scheme, directly benefiting the people who live and work where your fortnight's holiday has brought you, for the remaining 50 weeks of the year. However much the local economy depends on tourism, it is important to remember that you are visiting peoples' homes - so from Barnstaple to Bali, play fair and buy local!
You might also like...