Learning About Social Projects on Holiday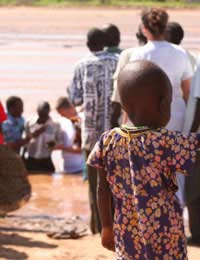 Many of the world's most beautiful and fragile eco-systems are inhabited by some of the planet's poorest people, making it inevitable that environmental awareness and social conscience go hand-in-hand with each other. For the eco-aware holiday-maker, the annual break offers an unparalleled opportunity to learn about both – sometimes with surprising results.
Church and State
The term "social project" covers a wide range of different types of work, done at different scales and run by a variety of people and organisations. At one end of the spectrum there is the likes of small village co-operatives, while at the other, million-dollar programmes funded by multi-national agencies to provide modern facilities, such as schools or hospitals – and just about everything in-between.
For the ecologically aware traveller, social projects probably offer one of the best insights into the real nature of a country; they tell you about its people's needs, of course, but just as importantly they can often make it quite clear what its government does not regard as a priority. Social projects tend to step in where wider society does not and as such, the scope and aims of these projects can be as wide and diverse as the needs of those they help – often making them object lessons in local social history. As a consequence, however, depending where you are in the world, it can sometimes pay to be a bit tactful in your enquiries. While official sources may only be too pleased to tell you what wonderful projects they have running for orphans or the disabled, for instance, they may be less ready to admit to schemes for AIDS-stricken prostitutes or to rehabilitate drug users.
Religious organisations often feature prominently in the promotion of social initiatives and many have a deliberate "open-door" policy to encourage visitors to find out more and perhaps even help out. Although churches and missions have a long history in this respect, they certainly do not have the monopoly on social conscience, so if the country you intend to visit is not a Christian one, check out the local equivalent. It can sometimes be a bit of an eye-opener what practical assistance the different religions offer – and it can certainly helps you get a feel for the country.
In Thailand, for example, local Buddhist temples have a long history as social institutions as much as religious enclaves. Long before formal schools existed, children would go there to study reading and writing – a tradition which continues to this day in some parts of the country. However, the monks have shown themselves as responsive to changing times as they are proud of their older traditions. Once the elderly would have lived with their own families, cared for by the younger generations out of typically Thai respect for their elders. Today, the lure of Bangkok and other big cities draws the young away form the countryside – leaving more and more of the older inhabitants without anyone to look after them in a country largely without a state welfare system. The temple has assumed this role, providing a peaceful place for the elderly to live out their days and making appropriate funeral arrangements for those who lack the finance or family to provide them for themselves.
Charity Projects
Many national and international charities are involved in social projects – some having been set up to do nothing else. With their often freely-available promotional literature and information, learning about their projects is usually very straight-forward. The World Health Organisation, for instance, have a series of programmes on a range of health related issues, while Water Aid works in seventeen countries around the world, helping to bring water, sanitation and hygiene education to some of the poorest people on the planet. On a smaller scale, visit South Africa and you may come across Wilderness Foundation projects – particularly appropriate for the green-holiday maker, since they provide livelihoods to AIDS orphans by training them to work in the country's booming eco-tourism sector.
However, in some ways perhaps it is the small projects – the Tibetan school built by locals and funded by fair-trade sales of Yak wool, the silk cases made by a Vietnamese women's co-operative or the goat-loaning schemes of sub-Saharan Africa – that make the most impression.
The essence of self-help sits so well against the developed world's growing drive towards recycling and self-sufficiency that in some ways it is impossible not to be drawn to these sorts of projects. For the eco-aware holiday-maker often the most interesting social projects are not the ones you knew about before you went away, so much as the ones which you may even have found by accident and learnt about while you were there.
You might also like...