Appreciating the Local Language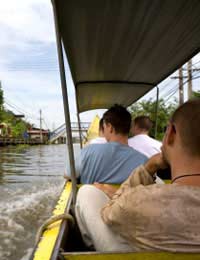 With almost 7000 languages in the world even the best linguists amongst us are unlikely to make much of an impression at mastering very many of them. While we may never rise to the fluency required to discuss the finer points of cattle in Maasai, the intricacies of Buddhism in Thai, or even playing the balalaika in Russian, that does not mean that we should not at least make a bit of an effort to try to appreciate the local tongue.
While fluency, of course, demands a considerable time to achieve, for the eco-tourist who simply wants to make a bit of an effort, getting to grips with a few useful expressions such as "hello," "please", "thank you" and "goodbye" should not prove too taxing. There is seldom a shortage of local people willing to help you and if nothing else, it should win you respect and goodwill for having bothered. However, truly appreciating the local language is a slightly different thing and often requires one of the most difficult of human skills – the art of listening.
Heart And Soul Of A Nation
"Listen, or your tongue will keep you deaf," the native American proverb warns us and when it comes to trying to tune in to language, it is a particularly useful piece of advice. Attuning your ear to a language other than your own can be a difficult thing to do, especially if the sounds are quite different, but it is well worth persevering.
Local languages are indivisible from the land and the culture from which they sprang. While they inevitably offer a means to discuss all of the normal things which define the common human condition, they also define the needs and circumstances of a people – rather like that old hoary chestnut about the number of words for "snow" in Inuit. Apocryphal it may be, but the principle remains true; there are words for the markings of cattle in Maasai and the patterns of Koi carp in Japanese which defy translation; nearer to home, the Welsh "hiraeth" holds far more meaning than the English word "longing".
To appreciate the local language is to begin to understand the soul of a nation and its cultural heartbeat. Place names become de-mystified too, if you begin to understand what they mean. Think how many "something-Moors" or "somewhere-Bridges" appear on a map of Britain – and then imagine for a moment that you had no idea what a bridge or a moor was. If nothing else, once you begin to recognise the shape of common words and geographical features, it certainly begins to make using the local bus service a lot easier! Human beings are compulsive communicators; we simply cannot help ourselves.
Just as nobody would travel to a foreign country without some kind of understanding of its monetary system, we should try to grasp something of its currency of communication – its language, however different from our own it seems. It is often easy to forget, given the near-global dominion of English, the importance of other languages – especially little spoken, or lesser-known ones. Everyone is aware of the need to respect the host culture, but sometimes the significance of the host language as an integral part of that whole can be lost. The world is home to a rich diversity of social traditions and language grew up alongside each one. It is, of course, part of what makes a place special and worth visiting in the first place – the least we can do is try to appreciate both it and the culture that spawned it.
You might also like...