Try an Eco House-swap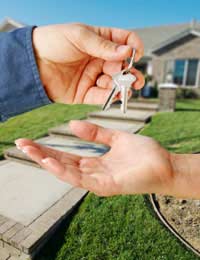 How many times have you heard a holiday described as a "home from home"? With an eco house-swap you get one that is, every time – quite literally!
Exchange your home with all its eco-friendly features with another green family's for a week or two and not only do you get to experience a new place as a local – rather than a tourist – but you get to go on an entirely different kind of eco-holiday.
There's nothing new about holiday house-swaps, of course. They've been a feature of vacationing for a while, but adding the "eco" angle to the whole thing has breathed a new lease of life into the idea and the popularity of eco house-swapping has been gradually growing in a number of countries for some time. One of the few good things to come out of the recent "credit crunch" and its ongoing economic fall-out has been to make British families begin to look at the benefits too.
Arranging a House-Swap
A growing number of organisations cater to the holiday house-swapping market, covering a range of countries. Giving over your house to other people for a fortnight often raises worries with prospective swappers, but many of the potential problems can be avoided by organising your swap through a reputable agency – though you will have to do some homework to be on the safe side. A search online or through the pages of holiday or country magazines is usually a good way to get started.
Some swapping agencies vet their prospective clients, while others leave more to you as the holiday-swapper to sort out with your prospective exchange partner. Their level of involvement is, inevitably, reflected in the overall cost – so it's a case of deciding for yourself how comfortable you feel about making your own arrangements, or whether you'd really feel happier with the security of a little more back-up, should anything go wrong.
Whatever you decide, do speak to your insurers to make sure that swapping your home in this way doesn't invalidate some or all of your cover; it may cost you your holiday if it does, but that's a small price to pay if things go wrong and your home is uninsured!
The Eco-Benefits
Stop to think about many of the purpose-built hotels, villas and apartments that spring up all over popular tourist destinations and it's pretty clear that an awful lot of resources are being expended to cater for visitors who may only come for a short season of the year. No matter how green the individual policies of the management, or how environmentally friendly the construction methods, the more you think about it, the harder it becomes to shake the notion that something doesn't quite seem to add up. It's precisely that kind of thinking that has sent many people looking for an alternative.
By holidaying in each other's homes, house-swappers achieve two things at a stroke. Firstly, existing resources – the domestic bricks and mortar – are used to the full and secondly, the tourism "in" is balanced by the tourism "out". Achieving this kind of stability obviously avoids the kind of excessive pressure on tourist hotspots and removes the threat of over-development which constantly hangs over so many beautiful locations.
Eco Features
The eco features of the houses being offered for swap are as varied as the owners who choose to offer them for holiday exchanges – renewable heating or power, water-efficient toilets and showers, high end insulation, low energy lighting and rainwater harvesting systems. One of the benefits of taking house-swap holidays is that it encourages you to look at your own home in a different way, often making you realise eco-benefits that you might never have really thought about if you hadn't been describing them to prospective swappers.
Clearly it's important to be honest about your abode – it's location, benefits and size – to prevent a bad mismatch, but many modest homes prove very popular; house-swapping certainly isn't the exclusive preserve of people with ancestral mansions to offer!
You might also like...