Low Cost Holiday Activities for Children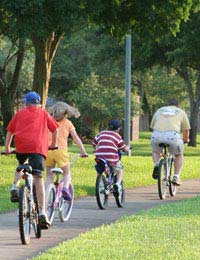 Wherever you take your holiday – home or abroad – if you travel with children, sooner or later you're going to need to come up with a few activities to keep them amused, no matter how good the weather.
Unfortunately, holiday activities can often mean a good deal of expense, especially if you're trying to keep things eco-friendly – and in these cash-conscious times, that's not such good news. However, there are plenty of ways to occupy inquisitive minds, stay green and save money into the bargain if you know where to look.
Outdoor Activities
Some of the best outdoor environmental activities are free and no matter if you're holidaying at the coast, in the country or even in town, there are things to do.
Depending on your holiday surroundings, bug hunts, pond dipping and rock-pooling make great ways to pass a few hours – although to get the best out of it you'll need to remember to pack a modest amount of equipment. Even if you have to buy the essentials locally, shrimping nets and toy magnifying glasses are hardly going to break the bank!
Winter holidays can pose a bit more of a challenge, but a surprising amount of fun can still be had if you take a few sheets of paper and some wax crayons and head off to your nearest trees to do a little bit of bark rubbing. Even the most modern of cities has its parks, so you should never be too far away from a good trunk – and many municipal gardens are home to some truly exotic specimen trees, so there's no need to feel cheated! An afternoon spent bark rubbing can teach your kids – and you too – more about trees than you would have imagined possible and it's guaranteed to make you look at them with quite different eyes.
When the Sun Doesn't Shine
If you believed the postcards, the average British holiday consists of one long fortnight of dismal days and endless rain. Despite our notoriously changeable climate, it isn't an entirely fair picture – but with the growing interest in "stay-cations" and holidaying at home, what to do when the sun doesn't shine is something that every parent will have to prepare for, just in case.
One unexpected bonus to come out of the credit crunch and its repercussions has been that a growing number of attractions – from marine aquariums to farm visits – have begun to offer very good discounts, particularly for children. It's a good solution for everyone, allowing venues to stay open and providing very attractive ways to meet holiday activity needs – so it pays to keep a look out for places that are doing this sort of thing.
Local libraries and museums are an often forgotten treasure-trove, offering a surprising range of possibilities, depending on your own children's interests - from away-from-home computing to fantastic fossil collections. They're often a good place to find out about other attractions and events taking place in the area – many of which may again be free, or very low cost.
There's plenty of opportunity too for things like scrapbooking or making collections of objects or other souvenirs of the holiday. With the rise of cheap, digital cameras, there's never been a better time for children to indulge their photographic talents and making a scrapbook as a permanent record of the trip can be something to look back on later.
In many respects, scrapbooking represents the best possible souvenir of any eco-holiday – especially if it involves things like tickets and brochures that might otherwise have been thrown away. It also has the great advantage of being enjoyable, cheap and educational – as well as being something you and your children can do in the most cramped of surroundings and on the rainiest of days.
Whether you chose to holiday at home, or away, keeping your children entertained quite literally doesn't have to cost the earth!
You might also like...