Be Your Own Travel Agent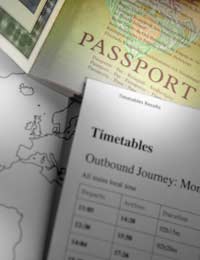 When it comes to cutting back on household expenditure, holidays usually get more than their fair share of scrutiny and there's no denying, that fortnight away certainly can run away with the money.
Even in today's cost conscious world, a holiday doesn't have to be an expensive luxury; there are ways you can still have a really great break without breaking the bank in the process. If you're prepared to do a little bit more of the work for yourself, being your own travel agent can be one route to getting away for less.
What About A "Staycation"?
Even before the worst of the credit crunch hit, people were beginning to rediscover the joys of British holidays. Choosing to holiday at home has some real benefits – to the planet as much as your purse. The idea couldn't be simpler – the less distance you travel, the less carbon you release – and the less cash you have to part with to do it.
Swap that long-haul flight for an overnight train journey and the whole of Britain becomes a potential holiday destination – and you don't have to confine yourself to the traditional tourist hotspots. Switch on your "own travel agent" head and take a careful look around to see what's on offer – and find the best deal you can. You may be pleasantly surprised.
From Scotland's northern isles to Devon's Jurassic coastline – one of UNESCO's World Heritage Sites, no less – Britain is full of familiar attractions and little known treasures awaiting to be discovered. Even if your idea of a holiday isn't complete without a spot of foreign travel, the British Isles can still oblige; pop over the border to Wales and practise your skills with a new language – arguably the oldest still spoken in Europe – or cross the sea to the Celtic mystery of Ireland.
Staying at home may make things cheaper, but it certainly won't cheapen the experience!
Going Off Piste
If you really do fancy going further afield, it's worth doing a little research to find places a little bit further off the beaten track. Nine times out of ten, getting there won't cost you much – if anything – more, but where you'll really save is on accommodation and living expenses. Get away from the more usual tourist venues and it's amazing how much further your pound/euro/dollar will go – which leads on to the next point. If you're going to be your own travel agent, make sure you check the exchange rates; with the pound fluctuating heavily – and currently unfavourably – against the euro and the dollar, a holiday outside the euro-zone or the US may cost you a lot less.
From the eco-traveller's point of view, there are other benefits to be had by venturing off the beaten track; not only will you get to experience the "real" country and its people, but it's much more likely that your tourist money will be benefitting the local economy and not some faceless holiday company. After all, under these circumstances, you can hardly avoid buying local!
The Bare Necessities
If you really want to cut your holiday costs – how about going back to basics? A lot of green travellers are already familiar with the fun to be had camping, but if you're not one, the credit crunch gives you an ideal excuse to try it for yourself. Get yourself a tent and a little bit of equipment and the whole world is open to you – but it's probably best to have a practice run with all those pegs and guy ropes in your own back garden first!
If camping in Britain sounds too wet and bleak, there are glorious campsites throughout Southern Europe, and beyond, to try – and you can get to many of them by rail, so your eco credentials will be glowing! With modern camping equipment and the facilities of many of the sites, it's nowhere near as much back-to-nature as it once was, but as your own travel agent, you'll be wise to check up to make sure everything will be to your liking before you arrive.
Even if you really can't quite bring yourself to replace that apartment by the pool with a fortnight under canvas, there's always the option of the much maligned caravan holiday to consider. Whether you sleep under canvas or in a mobile home, camping and caravanning sites are great places to meet like-minded friends – and their environmental impact is usually small enough to suit even the most committed eco-traveller.
Although you'll need to look into a lot of things for yourself – not least insurance and travel details – arranging your own break can be a great experience in itself and should help you save a bit of money along the way. Being careful with your pennies really doesn't have to mean missing out.
You might also like...