Aviation and Global Warming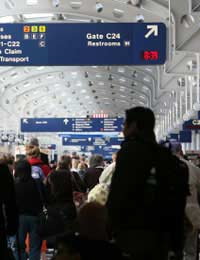 As the fastest growing greenhouse gas contributor it is scarcely surprising that aviation has been under a rather uncomfortable spotlight over recent years, with air travel coming in for a fair amount of criticism, particularly over the issue of emissions. In some ways, however, there is more than a touch of "shooting the messenger" about this – the biggest part of the problem is, after all, the sheer numbers of us wanting to fly. With so much of the scrutiny centring on the aircraft and airlines themselves, the impact of other aspects of the industry has tended to be somewhat overlooked – and in the context of aviation and global warming, it is the wider contribution that really counts.
The Carbon Thing
The whole emissions case has been made so often and by so many that it hardly needs an introduction or any further elaboration. However, while popular debate has tended to focus on the issue of CO2, readily embracing the concept of "fossil" carbon – to the extent of driving the entire carbon-offsetting industry – it has largely ignored nitrogen oxides and water vapour, which are also greenhouse gases. Factor in these forgotten culprits and your flight's global warming effect becomes three times greater than the CO2 alone; to put it simplistically, if one tree is a carbon offset, then you need to plant two more to pay off the rest of your environmental debt.
Although long-haul flights have been in the firing line for some heavy criticism over fuel use – and emissions – on a per passenger basis, short regional flights can often be more damaging than it might at first be thought, not least because they are frequently under-occupied. In addition, since the greatest fuel consumption occurs during take-off and landing, the emissions from many shorter hops soon mount up.
With medium and long-haul aircraft typically being flown near full capacity, they routinely produce double the fuel efficiency per passenger per kilometre. However, there is no escaping the fact that the further you go, the more fuel you burn and the more greenhouse gas you produce. KLM estimate that trips over 1,500km are responsible for around 80 per cent of the CO2 produced by air travel.
On The Ground
It is rare for any discussion of the environmental impacts of airports to look at anything other than issues of noise, congestion and the loss of greenbelt to new runways, but they too have their part to play in the greenhouse gas discussion. With something in the region of 120 million passengers a year passing through the UK's three busiest airports alone – Heathrow, Gatwick and Manchester – the energy required to cater for this influx inevitably has its own implications in terms of carbon emissions. Add to this the fuel used in transporting all the baggage, catering supplies, goods and personnel and the average airport's annual carbon debt begins to look pretty daunting.
If simply operating at today's level has its problems, then a future with more people making more flights, from ever-expanding airports is scarcely a comforting prospect from an environmental standpoint. While it is entirely understandable that any plans for expansion are primarily assessed on the local physical impact they are likely to have, airport extensions also have significant potential to contribute to the global greenhouse which also needs to be taken into account. Cutting down trees, grubbing up hedges, even digging up grass not only alters the face of the countryside, it also destroys a natural carbon-offset, however slight a contribution it may make. Earth-moving machines require fuel, building materials need transport and new equipment used energy in its manufacture – in the context of aviation and the environment, the carbon cost of airport expansions often goes unnoticed.
Although flying is the fastest growing greenhouse gas producer, at less than 6 per cent of the UK's total CO2 emissions, it is not currently the largest by quite a margin – our homes and road transport account for around 20 per cent apiece. However, if the number of flights made continues to rise at the rate predicted, it will soon account for a much larger proportion.
It is not all bad news, though; the industry has shown itself responsive to growing environmental concerns. The new Airbus A380 – a double-decked leviathan with high-efficiency engines, lighter alloys and seating for more than 500 – is one example, promising to use 20–30 per cent less fuel per passenger than its rivals. Heathrow East – Heathrow's proposed new terminal – is another, incorporating a host of environmental features, including renewable energy sources, low energy systems and reduced artificial lighting specifically to minimise CO2 emissions. Since we are not all about to give up flying altogether, air travel is here to stay – but hopefully, if moves like this do become commonplace in future, the link between aviation and global warming may not be quite so damning.
You might also like...