Minimise Your Holiday Flying Time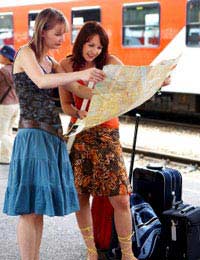 All forms of travel pollute – though the extra carbon dioxide exhaled by a cyclist or the manure left in the wake of a horse and cart are probably of little consequence in the grand scheme of things. However, no one can fail to be aware of the potential impact of air travel, particularly since so many holidays start at the airport. So, with flying so firmly established as an integral part of the typical fortnight away, can we really try to reduce the amount of time we spend doing it?
Aiming For Zero
One of the most obvious ways of minimising your holiday flying time is to ask yourself the simple question whether you need to fly at all. In some cases, travelling to your holiday destination by public transport and in particular, by train, could be an entirely viable alternative – and not simply for destinations within the UK. Travelling from London to the south of France via Paris on Eurostar, for instance, takes about six hours, which compares very favourably with air – especially if you factor in getting to and from the airports and the time spent clearing security and generally hanging around.
With the success of "The Man in Seat 61" – a website full of information on travelling by rail from the UK to Europe and even further – and the recent arrival of Rail team with their promise of simplified European travel, the train is becoming an increasingly attractive option. This new alliance of nine high-speed train companies was formed expressly to compete with air travel by allowing seamless ticketing and travel between their respective networks, guaranteeing the best possible fare and ultimately synchronising their timetables. It has been estimated that if by 2015, all domestic flights were instead made by rail, carbon emissions would drop by between 118,000 – 362,000 tonnes and nitrogen oxides by 18,000 – 58,000. If the switch to train travel applied to nearby European destinations too, the emission figures would fall by 145,000 – 402,000 tonnes and 23,000 – 64,000 tonnes respectively. Reducing your flying time to zero clearly has much to recommend it!
Less Is More
The train is not, however, the solution to all holiday travel and there will always remain those trips for which there really is no alternative to flying. Under these circumstances, minimising your flying time – and your stop-over – can make all the difference, since carbon emissions depend on fuel consumption. This is a remarkably complex issue in itself and ultimately comes down to the specific details of each individual flight and a complicated balancing act between cruising speed, altitude, passenger numbers and aircraft weight. However, all other things being equal, the amount of carbon released is directly related to the amount of fuel burnt – one gram producing around three grams of CO2. From this very simple model, it follows that the further – or longer – you fly, the more fuel you burn and the greater are the emissions made.
Take-off and landing use the greatest amount of fuel – which is why reducing long-haul stop-over is widely accepted as sound environmental practice and by the same token, on shorter trips, reducing the number of legs to your journey can have the same effect. One very effective way to reduce your flying time is to avoid connecting flights from regional airports – which are often flown by under-occupied and relatively uneconomical aircraft – and simply travel to the main hub by public transport instead.
It is often also worth doing a bit of research before booking your flight to find the most direct route and the shortest flying time; there can sometimes be a surprisingly high discrepancy between different airlines. Although it may take a little bit of effort to find out what you need to know, most of the information is readily available online, making it a fairly simple job to ensure that you pick the right one.
Air travel is not going to go away anytime soon. It is simply too convenient, holds too much of a distinct economic advantage – at least for the moment – over rival means of transport and for some destinations it is always likely to remain the only realistic option. There is no escaping the fact, however, that for an ever-increasing number of people, travel choices are heavily influenced by environmental considerations. When flying is unavoidable, minimising the time actually spent in the air offers one of the best ways to reconcile these conflicting demands.
You might also like...