How Does Carbon Offsetting Work?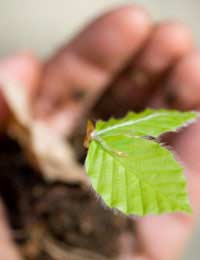 Carbon offsetting is a delightfully simple concept – you pay to have the same amount of carbon dioxide removed from the atmosphere as you generated by going on holiday, in effect cancelling out your environmental debt. Of course, "your" CO2 is still out there, so it is not an entirely perfect solution, but it does mean that you can do something to redress the balance.
So How Does it Work?
The first thing necessary is to have a good idea of how much carbon dioxide you need to offset. This is not as daunting a prospect as it seems even if you do want to do this for yourself, since there are plenty of online carbon calculators, while if you are using one of the many offsetting schemes available, the organisers usually work it out for you. There are numerous schemes to choose from and once you know the effective size of your holiday's carbon debt, you simply pay a donation to fund an appropriate eco-project. Ten years ago, when the whole idea first emerged, most of the schemes involved planting forests, since trees collect carbon dioxide from the air and then sequester it – lock it up – during photosynthesis as they grow. Today's offsetting projects tend to be more energy-based and centred on improving the lot of developing countries with initiatives ranging from the small scale provision of low-energy lighting to much larger schemes to promote renewable energy.
Not Without its Problems
As an idea, it is not without its problems and critics however and a number of environmental organisations are strongly opposed to the whole thing. The Green Party, Friends of the Earth and others feel that we should each be responsible for making carbon reductions ourselves, rather than paying someone else to do it on our behalf. They view carbon offsetting as buying your way out of a problem – which in a sense it is – rather than addressing the root cause, encouraging a sort of "business as usual" approach while someone else cleans up after you.
The benefits of individual schemes can also be hard to assess. It is extraordinarily difficult to know for certain that a wind-farm project in Sierra Leone, for example, actually has offset the amount of carbon produced on your flight to Australia. It is inevitable in an unregulated market with so many providers competing to salve your green conscience, that some schemes are better than others. With no international consensus on the cost of offsetting, currently providers set their own prices – and there is no legislation covering how much has to go to the scheme itself and what proportion can legitimately be used for overheads and administration.
New Standards
Unfortunately, the offsetting business as it stands is wide open to abuse, as only the honesty of the providers themselves prevents well-meaning consumers from being conned by unscrupulous operators and bogus schemes. In early 2007, the UK Government announced a new set of voluntary guidelines for the industry, which will issue quality marks to those offsetting providers which make use of internationally certified carbon credits. In addition to protecting eco-consumers, this move will also provide a way of verifying how effective schemes are at addressing the carbon issue – an area which has not always been as transparent as it perhaps should be. Quite how this will affect the market remains to be seen, but it seems likely that there is a fair degree of scope for improvement. When the initiative was announced in January, according to the Department for Environment, Food and Rural Affairs (Defra), only four offset providers – Pure, Global Cool, Equiclimate and Carbon Offsets – met the new standards.
Although the idea of carbon offsetting has been around for a decade or more, it is still a fast developing area, as increasing numbers of holiday-makers seek to limit the environmental impact of their trips and it has come a very long way since those early days. It is, of course, only sensible to consider the wider debate of personal carbon responsibility, examine our own lifestyle and make reductions where we can. By the same token, individual schemes need a measure of scrutiny and transparency to provide reassurance. However, while these questions are entirely valid, we should not lose sight of the good carbon offsetting can do – however slight that may be. Even something as simple as making the calculation after a flight cannot fail to bring you face to face with the reality of your carbon footprint – and that is the first step towards doing something about it.
You might also like...